Nagasaki University AFIMA Leaders Program Completion Ceremony.
The closing ceremony of the AFIMA Leaders Program was held on November 22, 2022. At the certificate award ceremony, Professor Takeda, Dean of the Graduate School, presented the certificate and commemorative gift.
Babul Atiqah Othman (University Malaysia Terengganu)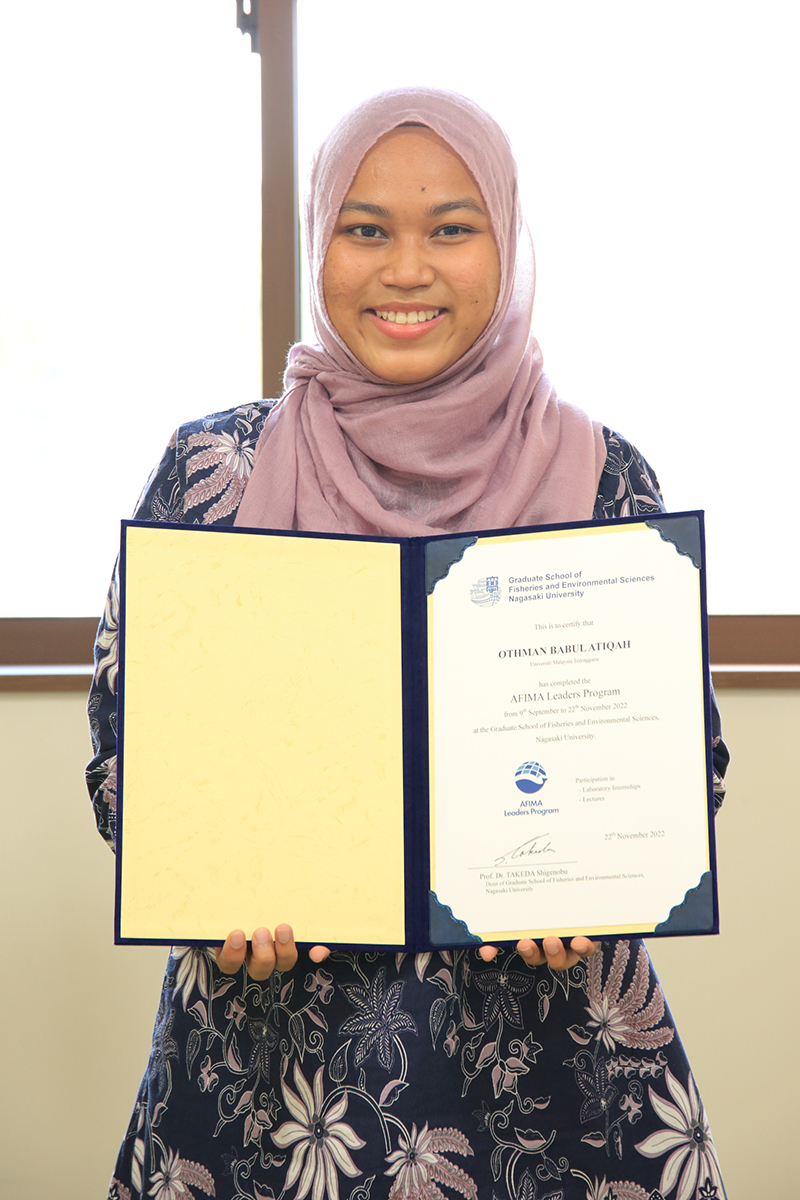 Faten Nur Aisyah Zainuldin (Universiti Malaysia Terengganu)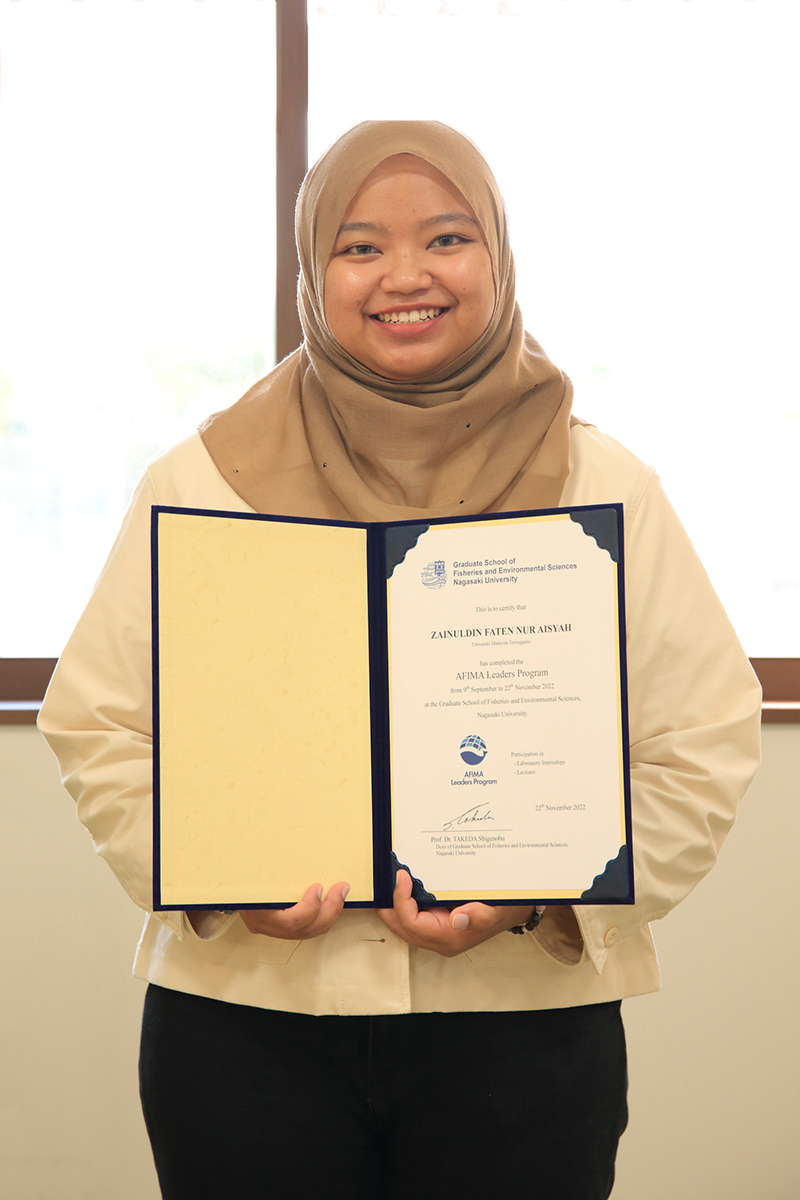 Jiwon Choi (Pukyong National University)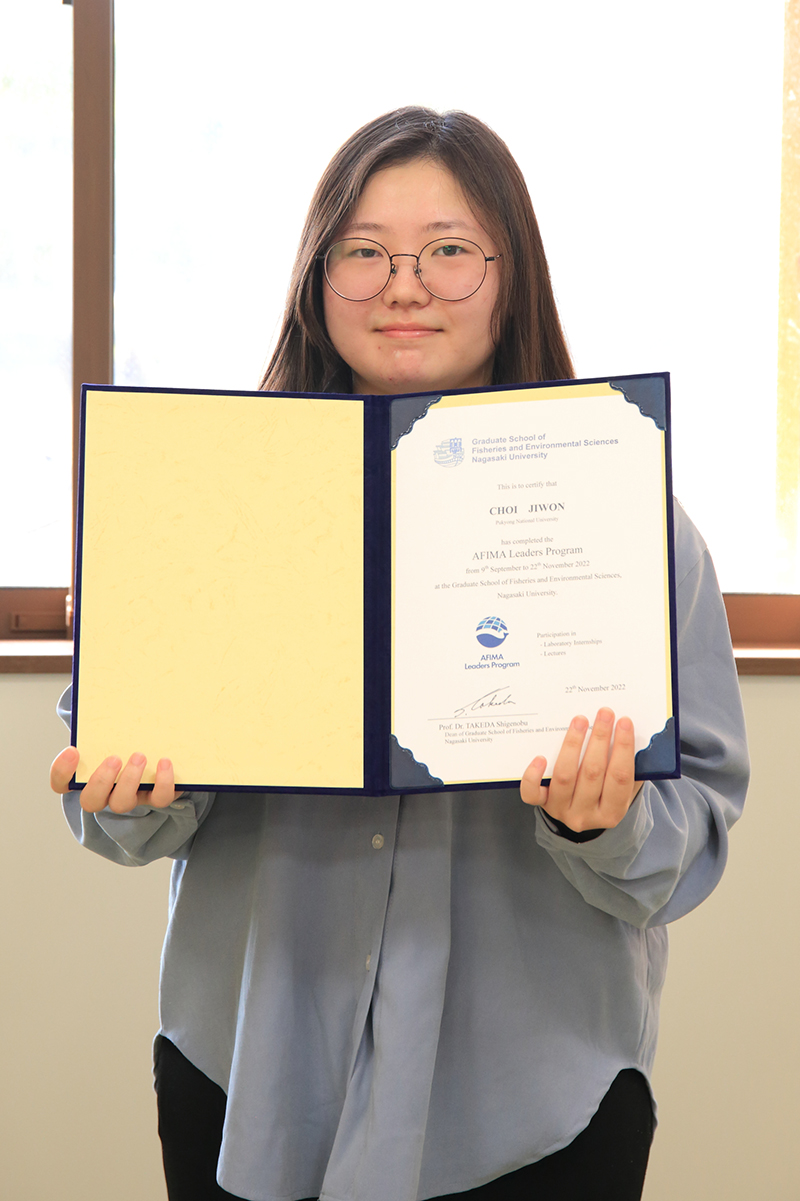 Gitae Nam (Pukyong National University)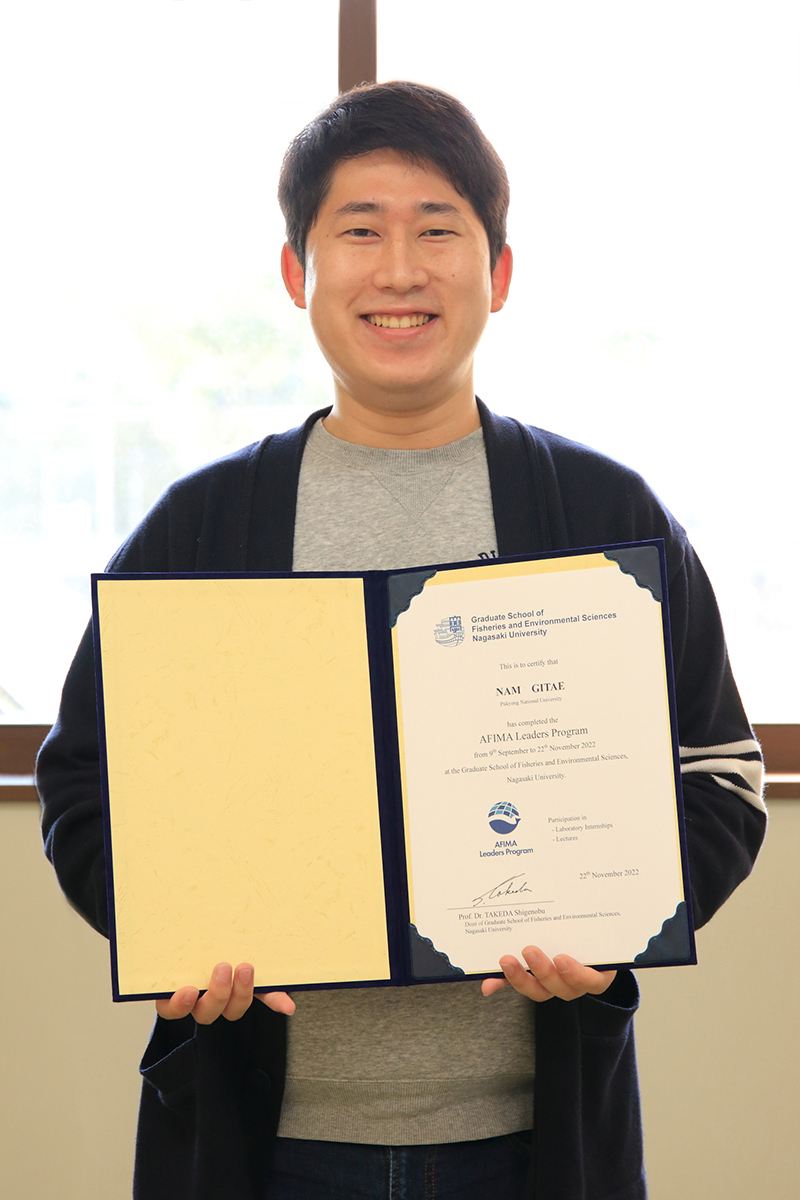 Zhu Huanhuan (Ocean University of China)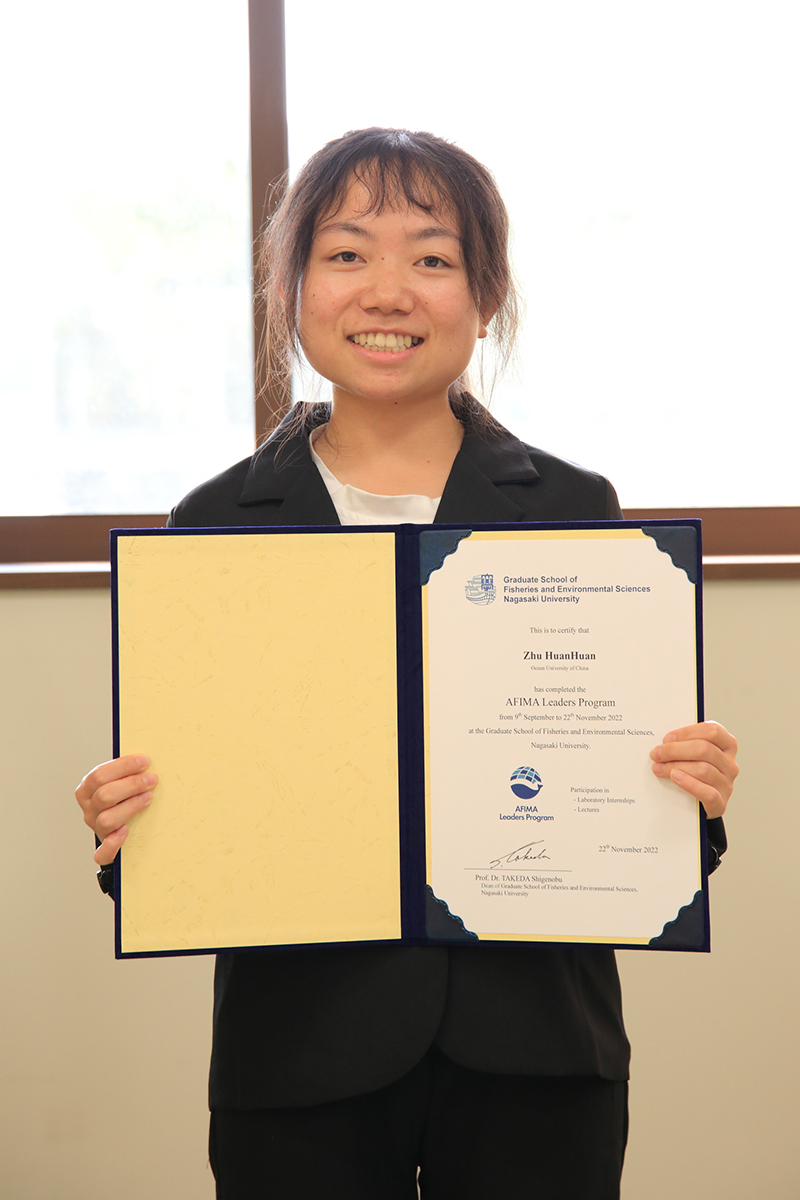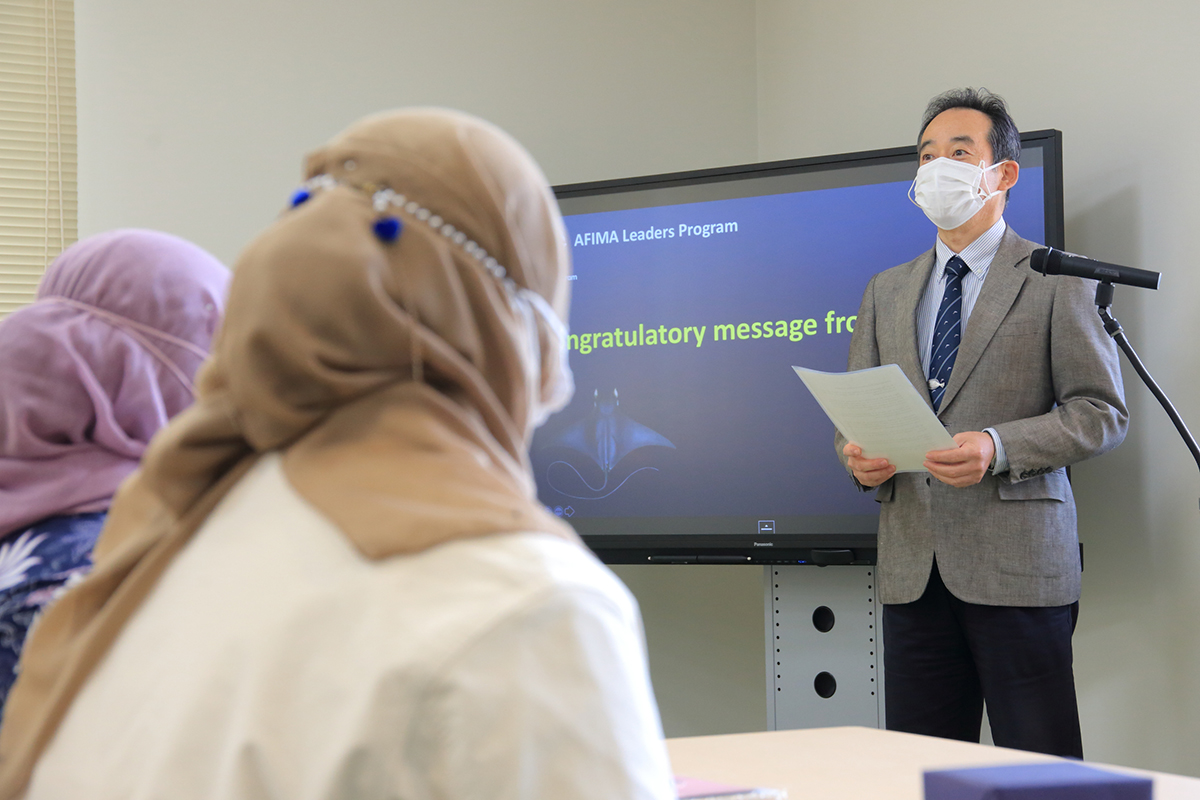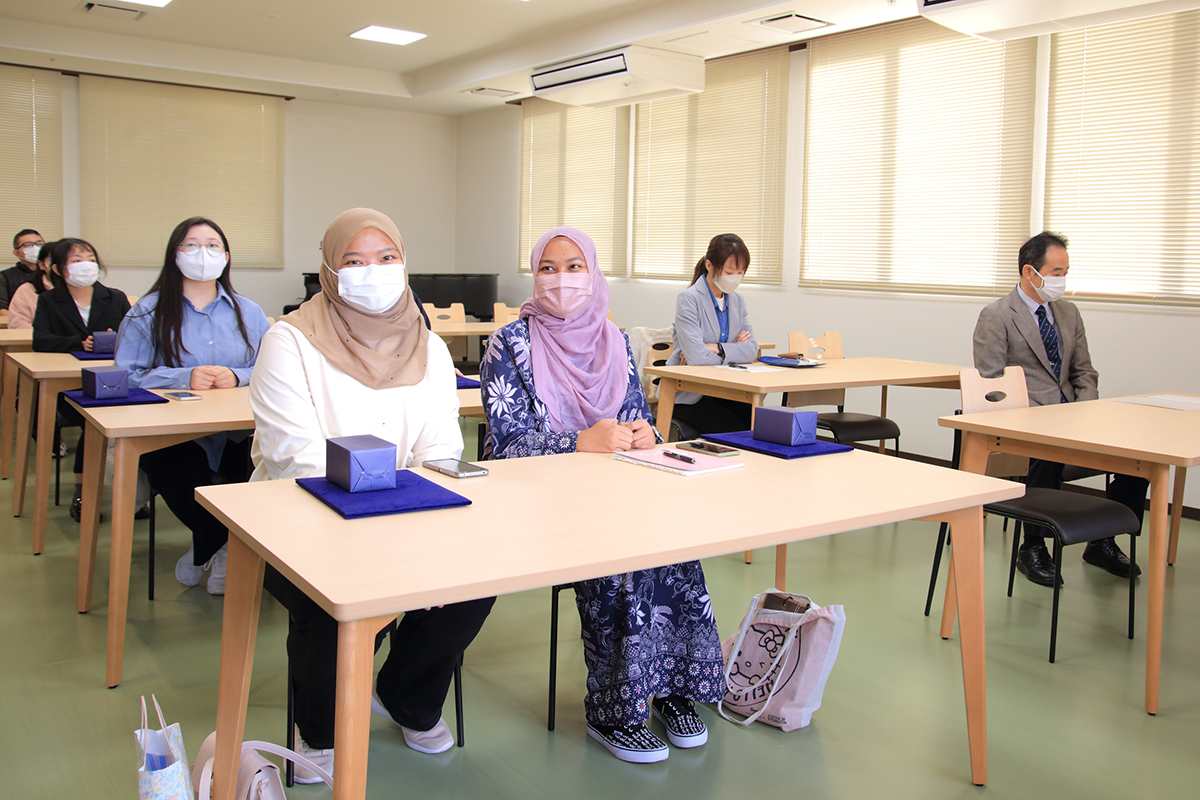 After the award ceremony, we took a commemorative photo with the teachers. There were many words of gratitude to the teachers. Although it was a short period of about three months, the five international students learned a lot and moved on to the next step.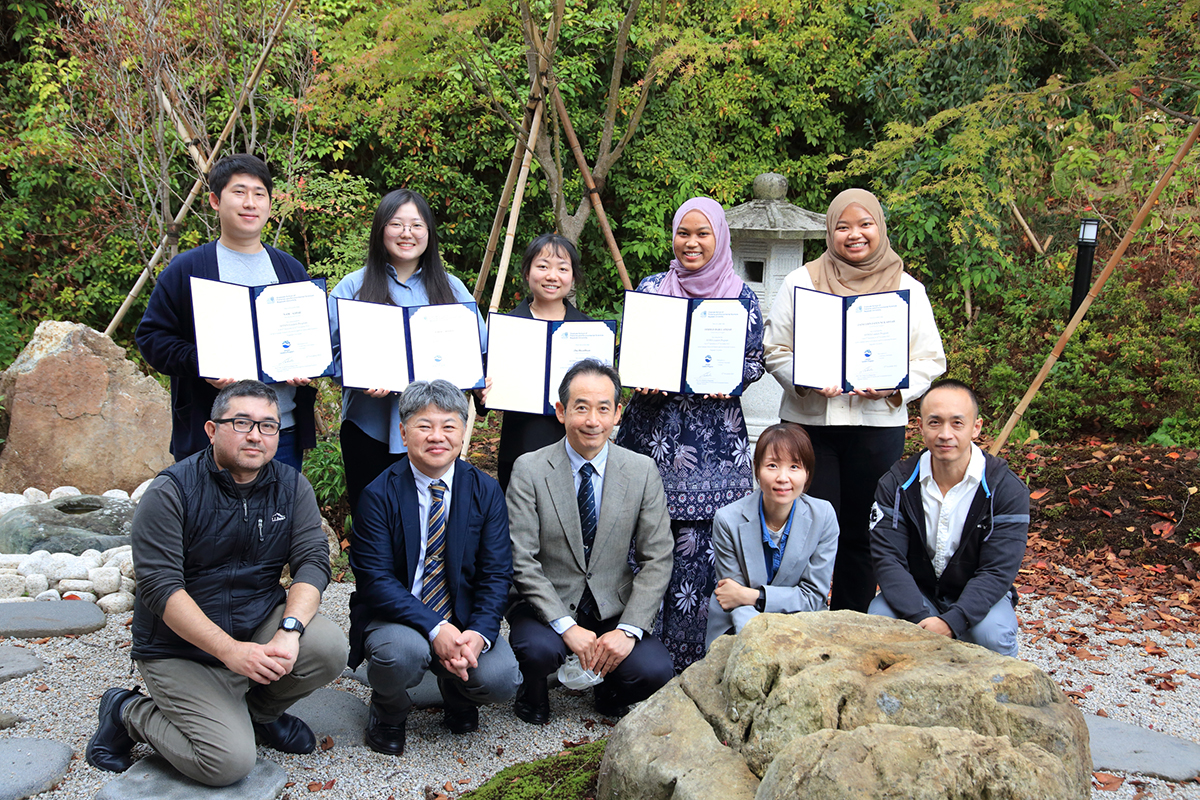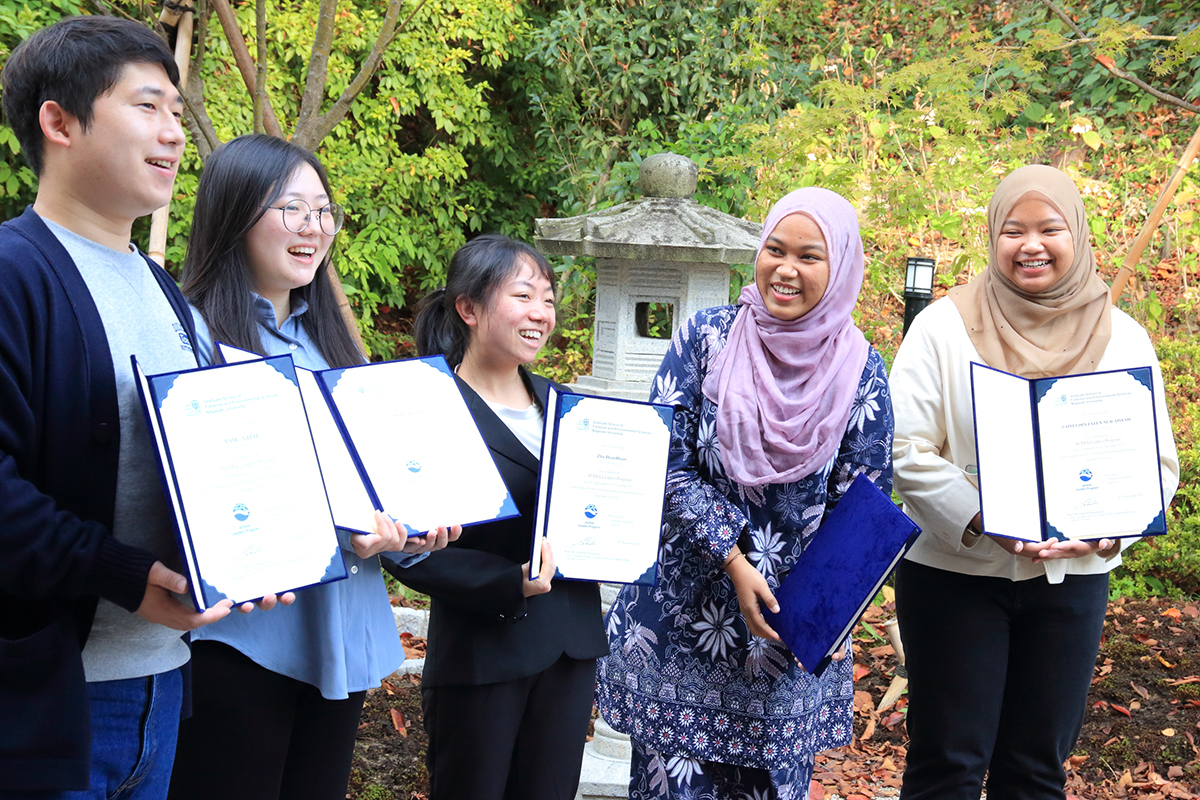 Impressions of International Students
When I did laboratory attachment supervised by Nakayama sensei, I am so attracted with the studies. It is so amazing how small creatures which is bacteria can play a big role to the environment. The laboratory study is quite different from my home university which is a bit difficult for me to learn all those terms, but I did gain new knowledge from that. I am also very interested in Hirasaka sensei's class which is Molecular Nutrition. I learn so many new things related to the nutrition in aquatic organisms which are very beneficial to human health. I also learn about the mechanism of nutrition transportation in the bodies during this class.
–
I still can't believe that I have been here for almost 3 months and will finish this program. Wherever I go, it leaves a piece of my heart. Every meeting must have a parting. My memories of this place which shall remain in my heart. This beautiful city and university will always be an important part and parcel of my lives. Besides that, my study abroad will change me forever which I need to go out from my comfort zone. I'm not ready to go yet, but I'm counting the days until I go. Saying goodbye to this beautiful and quite city was more sad than happy. I didn't know what to do with myself or how to spend my last precious days. If I were to do it again, I would recommend myself to try to see the things I want but haven't done yet because I am never known when I will be back again but I wish I come back again.
–
I was quite excited when I had chance to join this program, because I learn mostly about economics and trades about fish products. For those who preparing further education, this program will be helpful. I wish I've learned more things about marine and fisheries in my university. I'm thankful for everyone and both Nagasaki and Pukyong universities for providing such opportunity.
–
When solving problems, I can think from different angles, and have a better sense of teamwork and the ability to solve problems independently
–
I am impressed by Professor Honjo sensei's lecture on 'Animal Welfare'. In Korea, interest in animal welfare is high, and more and more people are paying higher prices for animal welfare products. However, it was interesting because I had never heard of the welfare of marine life. I always had a human-centered thinking because I thought about 'selling seafood to consumers'. It was a very impressive experience to discuss things for animals, not for humans.